InBio.be - Centre for Industrial Biotechnology & Biocatalysis
Faculty of Bioscience Engineering, Ghent University
Address: Coupure links 653, 9000 Gent, Belgium
Tel.: +32 9 2646226
Mail: InBio@UGent.be
By car
Enter your starting point here and check out the details.
Please be aware the center of Ghent is a low emission zone. Check out all details here.
If you turn left onto Coupure Links, just before the Rozemarijn bridge, be aware this is a bicycle street: cyclists have the right of way and must not be passed.
Parking is possible along the Coupure (parking meters!) or on the campus itself. When you want to enter the faculty by car, you'll have to pass a barrier. Press the button on the left side. The barrier will open and you'll be able to park your car on the campus. There is a large parking behind the B-block. To exit the parking, you will need a 'jetton'. Please ask one from the person you visit at Inbio.be.
If you need any further details, check out our Faculty web page.
By public transport
From Brussels airport to Ghent:

Take a train to Brussels Central Station.
Take a train to Ghent from there: all trains with destination Oostende, Knokke-Blankenberge and Ghent are OK (take an IC –Inter City– train, other types of trains make too frequent stops). The train ride to Ghent takes about 40 min.
For timetables and tickets click here (select from 'Brussels airport' and to 'Gent Sint Pieters').

From the Ghent train station (Gent Sint-Pieters):

Take tramway no. 4 which will take you right in front of the faculty, or tramway nr 2 , where you have to get off at the Rozemarijn bridge just before the canal (= Coupure). The trip takes about 10 to 20 minutes. For tickets, timetables and route updates click here (select from 'Gent Sint Pieters' and to 'Rest. Campus Coupure').
Cross the road and follow Coupure Links along the canal. The entrance of the campus is on the next corner.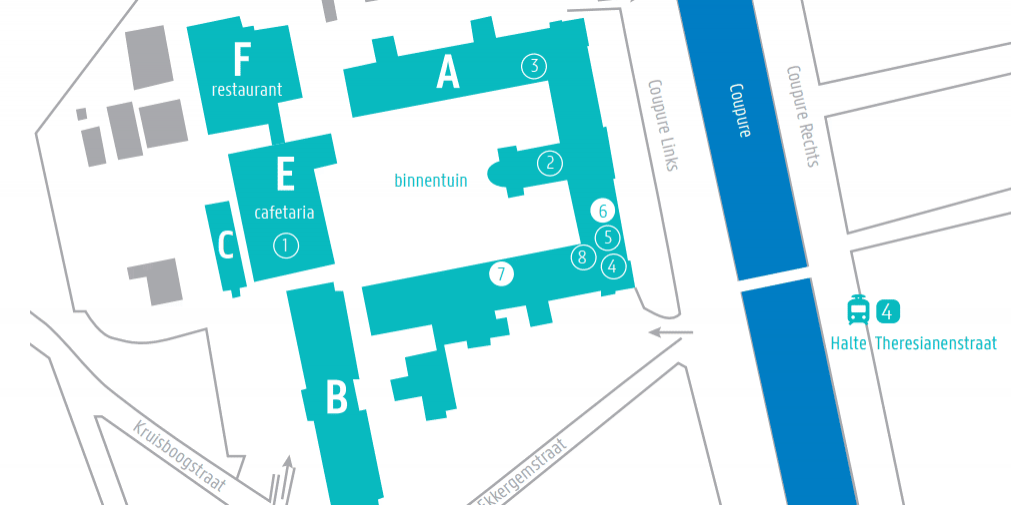 Location of InBio.be
Once you have entered the Faculty, you will see on your right-hand side a low orange building (A-block) and straight ahead a newer 6-floor building (B-block).
Enter the B-block by taking the middle entrance and take the elevator to the 2nd floor.