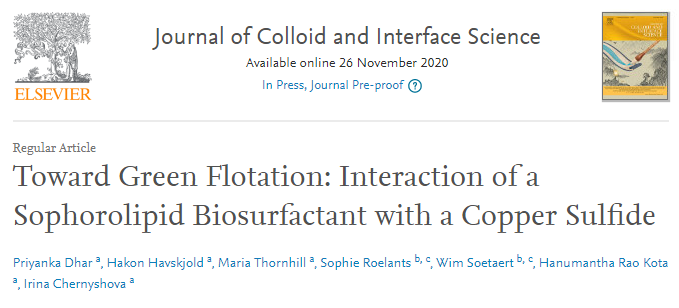 Highlights
Acidic sophorolipid (ASL) has unconventional pH-dependent interfacial properties
At the air-water interface, ASL molecules acquire a Π-shape and interact with one another through their carboxyl/carboxylate groups
ASL renders copper sulfide hydrophilic at acidic pH and hydrophobic at neutral and basic pH
The stepwise increase in hydrophobicity is caused by precipitation of hydrophobic Cu(II)-ASL complexes
The ligand-promoted dissolution-precipitation mechanism of the ASL adsorption is underpinned by the strong metal-leaching activity of ASL linked to its capacity to form ring chelates.
Want to learn more? Click here!