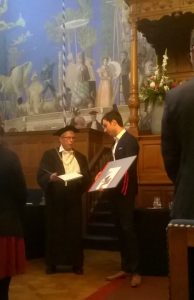 Friday 27th October 2017, Tim successfully defended his PhD "Exploring the glucosylation potential of glucansucrases: From enzyme to product" at the University of Groningen and may now be called dr. ir. Devlamynck!
He will continue his career as project coordinator at the Bio Base Europe Pilot Plant, located at the harbor of Ghent.
Many congrats Tim and good luck on your new job!